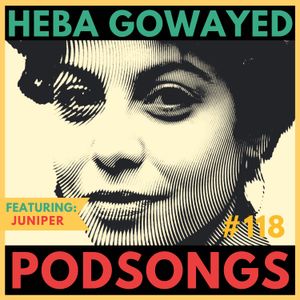 What happens when a young Boston musician interviews a Professor of Sociology at Boston University about the refugee crisis happening worldwide? The answer is a great song for Social Change.    
Stream the song:  https://ffm.to/juniperborderline 
Heba Gowayed is the Moorman-Simon Assistant Professor of Sociology at Boston University, and it's her job to make sense of it all. Her research, which is global and comparative, examines how low-income people traverse social services, immigration laws, and their associated bureaucracies, while grappling with gender and racial inequalities. 
Heba's writing has appeared in Gender & Society, Ethnic & Racial Studies, Sociological Forum and in public outlets including Slate and Teen Vogue. Her new book, Refuge, out now with Princeton University Press, explores how states shape the potential of people pursuing refuge within their borders. She is currently working on her second book, The Cost of Borders, which theorizes borders as a costly, and often deadly, transaction. 
JUNIPER 
After meeting in college, Scott Johnson, Ahren Shreeve, and Alejandro Marín formed Juniper. The group has formed their unique sound from diverse influences of alternative rock, folk, R&B, and bedroom pop. With various vocalists throughout their early discography, one thing has remained constant: their songwriting is tangibly honest, ranging from upbeat and high energy to delicate and introspective. With roots in local venues and basement gigs, their music found a loyal fan base early on, which has since only grown. At just 21 years old, the band has emerged as one of the new faces of the Boston music scene, and with this encouragement, they've consolidated and are now working on their debut album, coming soon. 
On the borderline 
Ordinary people 
Are intertwined 
On the borderline 
If you think it's equal 
Then you're colorblind 
Can't you see it'll never be the same 
Even if you're from the same place 
Disproportionate, longevity 
Based on things you wouldn't believe… 
Who's complicit in creating (generating) lies 
A never-ending staircase 
With freedom at the top in disguise 
Protected by 
Countries with money 
And no sense of pain 
The pain, of dropping everything 
And moving away 
At the borderline Hope is used 
To build the lie// 
That it's a better life 
It takes a criminal mind 
For death and sacrifice 
To find a compromise 
To find a compromise 
But can't u see it'll never be the same 
Even if you're from the same place 
People seek refuge 
But don't you go calling them refugees… 
Who's complicit in creating (generating) lies 
A never-ending staircase 
With freedom at the top in disguise 
Protected by 
Countries with money 
And no sense of pain 
The pain, of dropping everything 
And moving away 
--- Send in a voice message: https://anchor.fm/podsongs/message